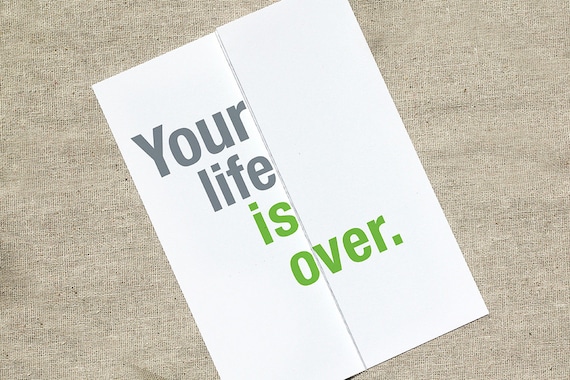 Image via etsy static
Bill and John were friends since grade school.  Since they were just little turd-butts they'd been doing everything together.  After school, every summer, and on recess Bill and John were side by side, taking on the world.  They attended college together, double dated, and were each other's best men at their weddings.  But suddenly something changed for them.
'I had called John,' Bill told us, 'to see if he wanted to go play darts down at the pub, like we do most Thursday nights.  He said he couldn't.  He said had to stay home and help with the baby.'
John had become a victim of parenting.
'I didn't even know Sandra was pregnant!'  Bill continued.  'I saw John several times a week and he never said anything.'  We reached out to John for his side of the story.  'I didn't say anything because I was ashamed.  I was scared that my life was over.  I knew Bill wouldn't take the news well, since our friendship would end.  I didn't want the news to spoil the last bit of time we had left.'
Bill told us more.  'That was 4 years ago.  I haven't seen him since.  I used to reach out to him; Wanna go to the movies?  Wanna play disc golf?  The answer was always no, if he even answered.  And his online presence disappeared.  His profile picture is of the kid.  Every status is about the kid.  I friended you, John!  Not Jeremiah!  It's really like John is dead.  He's literally dead to me.  We had a ceremony for him last Thursday.'
Image via Blogspot
'It was a total accident.'  John explained,  'We were being careful.  Birth control.  Pulling out for good measure.  I don't know how it happened.  I never imagined this terrible thing would happen to good people like us.'
But life goes on.  'Oh yeah, I've got new friends.'  Bill told us, 'Friends who can do things.  I totally forgot about John until you brought him up.  How's he doing?'
Not good, Bill.  Not good.
When not writing satire for The Spew, Josh runs his travelog at joshxhenderson.com