Seinfeld, NBC's multiple-Emmy winning hit sitcom that ran from 1989-1998, is not only the greatest television program of all time but also a cultural phenomenon which unleashed a multitude of quotables and catch-phrases upon Planet Earth and changed the landscape of America in the 1990s, and beyond.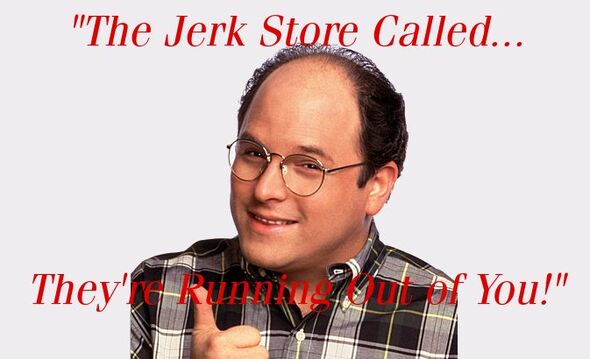 Unfortunately, it only lasted 9 seasons.  Which is a lot compared to most shows, but still less than what we would have liked to have had of Jerry & Co.   Fortunately though, we now live in the internet age and we have plenty of ways to supplement our cravings.
Hulu –  In case you are unfamiliar with Seinfeld (the kids in my class growing up all watched Home Improvement.  Yes,  Home Improvement.  SMH)  and as if a lifetime of syndication wasn't enough, you can now watch any episode, any time, on Hulu.   And that's anything from all 9 seasons.  Full episodes, not the cut up versions that air in syndication now.  If you have never watched Seinfeld before, do so now.  For the rest of us, this is the best way to watch our favorite moments, anytime, anywhere.
Alternatives
There were just under 4,000 minutes of Seinfeld produced.  So even if you take your time, avoid binge-watching (good luck) and savor every moment of Seinfeld, you will eventually run out of episodes.  And even after you've watched the entire series 12 times through, you will still be jonesing for that same kind of humor.  Luckily, there are a few options to get your fix for more Seinfeld.
Comedians in Cars Getting Coffee – This Emmy-nominated web series created, directed and hosted by Jerry Seinfeld himself features his three favorite things in life; comedians, cars and coffee, and is a perfect companion piece to the Seinfeld series.  Not only does it feature Jerry's  signature style of humor and a great list of who's who of guests, several of the Seinfeld cast (Michael, Julia, Jason, Larry, Wayne…) appear on the show.  And you can watch the entire series for free on Crackle.
Curb Your Enthusiasm – Any Seinfeld fan knows, Seinfeld co-creator, writer, and producer Larry David was half of the magic that made Seinfeld so great.  So Larry David's Emmy & Golden Globe winning comedy for HBO will be up any Seinfeld fan's alley.  (It doesn't hurt that Seinfeld alum Larry Charles directed and produced as well)  Curb Your Enthusiasm is basically what it would be like if George stepped out of Seinfeld had his own show, but with adult language and situations since it's on HBO.  To me, it's basically a roided-up Seinfeld.  Not only that, but part of the premise of season 7 is a fictional Seinfeld reunion, featuring many of the original cast.  And now it's available for streaming for any Amazon Prime member.  (which, if you aren't a Prime member, why not?  It pays for itself in like… a month)
So there you have it, the best ways to get your fill of history's best TV show and everything related to it.  Unless I missed something… Did I miss something?  You guys would let me know, right?  Of course you would, this is the internet.
When not writing 'Seinfeld' every 26th word, Josh is writing for his travelogue.