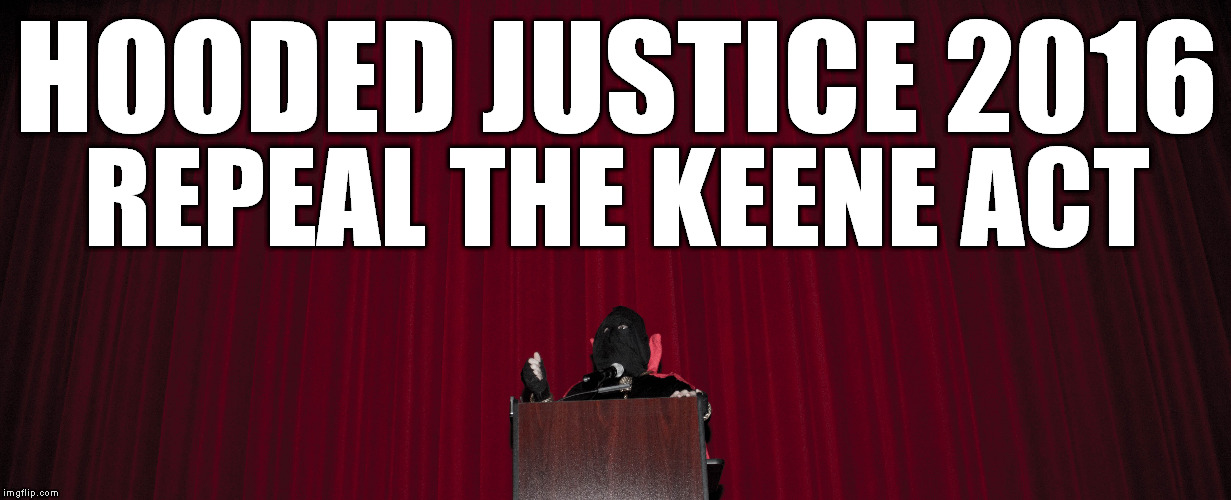 Years after his disappearance after the passage of the Keene Act the masked vigilante known as Hooded Justice has re-emerged… to run for President.
Despite being a rumored homosexual and his hard stance towards gun-control, HJ is NOT running for the democratic party's nomination.  'I am running as a Republican because of my belief in a tough criminal justice system and my support of corporal punishment.'  Hooded Justice tweeted yesterday, 'plus, I don't want to run against Bernie Sanders.  That guy rules.'
HJ's late jump into the race has caused a panic among the GOP, many believe that fear of Hooded Justice caused Scott Walker to drop from the race.  Hours before publicly announcing he was dropping from the race, Scott was seen cowering under his desk in his office, weeping.
HJ's run in the GOP has its supporters and detractors.  Many within the GOP continue to bring up his rumored homosexuality, a talking point HJ himself addressed recently.  'Yeah I'm gay,' he said in a press conference, 'gay for Justice, and the well being of the American people.'  His response was met with thunderous applause and has silenced the issue, for the time being.
Justice, whose real identity is unknown, has spoken only on a few issues.  Mainly, repealing the Keene Act, which forced him to hang up his cape and noose and go into hiding.  'Cops are losing out there.'  He said in a recent speech, 'We need more vigilante justice to fill in the gaps.  America needs cleaned up and the American people are not standing with our law enforcement.  We need to find another way.'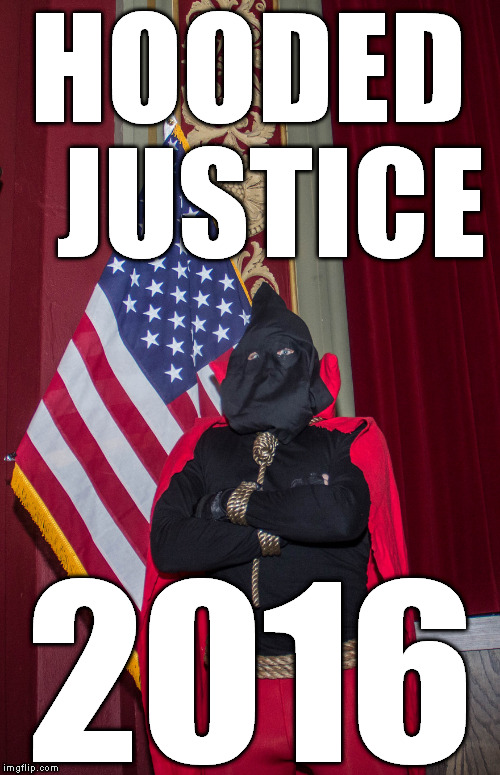 Ex-President Bill Clinton has even spoken in support of HJ, a move you'd never expect from the husband of a democratic Presidential candidate.  In a recent interview he was quoted as saying 'I think we could all use a little HJ in the White House.  I know I did.'
Overall, the American people don't seem to be too opposed to the idea of a costumed adventurer leading our nation.  The general consensus seems to be that if it frightens the conservatives, it must be good and hey, it can't be worse than Trump.