There are certain films and TV shows that can only really be enjoyed to their fullest during certain times of the year.  Fargo and A Simple Plan are definitely most chilling when viewed from late January through early February.  A summer isn't complete without watching The Sandlot.  And with Halloween looming, it's time to start planning your viewing schedule so you can pack every free evening with these suggestions from our panel of 'experts'.
Josh – October baby and major cinephile
Joey – Loves candy and creepy stuff
Dustin – Mandated that anniversary with fiancee be celebrated on Halloween regardless of actual wedding date
Tumps – Another October baby
Cthulhu – Dread One, bringer of madness and despair, lifestyle blogger, coffee enthusiast
JOSH'S PICKS
Treehouse of Horror – No Halloween season is complete without binging on The Simpsons annual Treehouse of Horror episodes.  Sure, it'll take you several days to watch them all, but it's totally worth it.  (I personally have them all permanently saved to my PlayStation for yearly viewing)  The Simpsons' spin on classic tales and their own chilling original plotlines enhance everything about early autumn.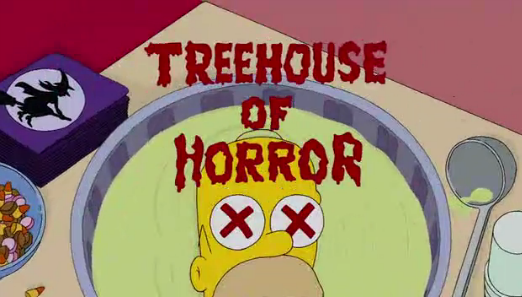 Sleepy Hollow – Tim Burton is considered a master of modern gothic entertainment.  I'm not even sure what that means… but that's what some people say.  I personally think they guy is a total hack.  He has had… maybe 2 original ideas in his life and the guy made Batman look like some twisted cartoon for kids.  But somehow Sleepy Hollow is something I adore.  And there is nothing that says Autumn in America more than the folk tale of The Legend of Sleepy Hollow, from which the film was adapted.  It's absolutely perfect for the season, I never miss it.  And lucky for you, it's on Netflix.
Ernest Scared Stupid – Ernest played a big part in my childhood.  I have vague memories of a TV show he did and many vivid memories of watching Ernest Goes to Camp and Ernest Saves Christmas over and over, after recording them off of broadcast TV.  Ernest Scared Stupid was more elusive though, we never recorded it, but caught parts of an airing of it one year on ABC, which didn't come in very well over the ol' bunny ears.  Despite it being a kid's show, the parts that I did catch disturbed me.  And the grainy in-and-out picture only added to the spookiness.  So when I became an adult I had to finally see the thing in it's entirety, with a quality picture.  As you can guess from it's inclusion on this list, I loved it.  A treehouse, a curse, an evil troll and Eartha Kitt, it's got everything.  It's pretty cheesy, but still so very enjoyable.  That's what the Ernest movies are, and while my wife hates them, I still watch Ernest Scared Stupid every year.
Honorable mentions – Halloween is an obvious choice, I've also enjoyed newer flicks like Fun Size and Trick 'r Treat in the last couple years.
Joey's Picks
It's The Great Pumpkin, Charlie Brown!

Nothing really says Halloween to me like It's The Great Pumpkin, Charlie Brown. The cartoon classic has been run in syndication since the 60s so I can always count on it to put me in the Halloween mood. Classic moments like Charlie Brown's hapless ghost costume, Snoopy's WWI flying ace taking on the Red Baron, and Linus' sincerely-held belief in the Great Pumpkin, set to Vince Guraldi's timeless music make this an annual treat worth unwrapping.
Garfield's Halloween Adventure

Certainly a close second in terms of animated television specials, Garfield's Halloween Adventure features some of the best animation and music in any Garfield special. Our favorite lazy, orange cat sets out hoping to scam Odie out of his Trick or Treat candy, but ends up on such a bizarre and frightening adventure that… Well, you'll just have to see. Again, you can usually catch this in syndication every year, but I don't like to wait; I have the DVD.
Invader Zim: Halloween Spectacular of Spooky Doom

One of the weirdest, creepiest episodes of one of the weirdest, creepiest cartoons ever made for Nickelodeon. After an accident using one of his dad's pieces of scientific equipment, Dib is having horrific visions of a nightmarish parallel dimension. Can he team up with Zim to stop these visions before he's trapped in the parallel dimension forever? Check it out on Hulu.
Dustin's Picks
Addams Family Values
They're creepy and they're kooky…
I'm cheating here, and below, because I'm really recommending both the original and the sequel.  The Addams Family in general captures everything that is great about Halloween- even if the first one takes place around Christmas (a surprisingly warm Christmas) and the second one during summer-camp/Thanksgiving time (which I did not know overlapped).  The ensemble cast does a perfect job bringing each character to life and the first movie sets up so much great spookiness about the Family.  But Values really brings it home with a fantastic Wednesday Addams storyline about summer camp and the genocide of the Native Americans.  Like my other choices, so much about why I pick this movie is how well it conveys a specific mood.  In the case of The Addams Family it is a blend that rarely works: cheerful goth and gallows humor.
Hellraiser: Hellbound
We have such sights to show you!
Look, again, I'm recommending both the original Hellraiser and its sequel Hellraiser: Hellbound.  This is one of my favorite horror movie concepts, though it takes a nosedive after the first two movies.  Pinhead is an iconic horror monster, though he isn't actually the villain of either piece.  Barker's classic tale of bad people getting their just desserts when they take pleasure-seeking to the extreme is graphic, thought-provoking, and chilling.  And I love the second movie more than the first for taking us deeper into the lore and the mythos of this particular vision of Hell.  The heroine of the film, Kristy, is smart and fiercely determined, but really I'm here for the monstrous and monk-like Cenobites.
Beetlejuice
The Ghost with the Most.
I won't rag on Burton too much here because I think he's found a visual schtick that works for him no less than any other stylistic director (Tarantino, Nolan, Lucas… you recognize their movies right away).  Were it Christmas I'd be putting The Nightmare Before Christmas here- and I'll probably watch it for both holiday seasons myself- but I think Beetlejuice is the more properly-Halloween pick.  I'm assuming everyone has seen it, because by now everyone should have seen it.  It has Burton's sensibilities all over it with traditional Halloween ghosts and ghouls given a more… goofy twist.  And Michael Keaton's performance as Beetlejuice is fantastic, disgusting, and hilarious.  It is also set in New England, a place that, to me, is perfect for Halloween tales of all kinds.  And check out some of the cartoon show too.  Not that its all that good, but it does get you right in the nostalgias.
Tumps' Picks
Evil Dead II and Army of Darkness
Check out this groovy two for one special, by the great cult director Sam Raimi. These films marry an absurd amount of gore and humor, while walking a thin line of terror and outlandishness.  Join Ash and his boomstick in a crazy undead killing (re-killing? un-undeadening? re-deadifying?) extravaganza. Let's face it, the 80's to early 90's were great for science fiction and horror. And so, they have always been my first watching of the season for the sheer campiness alone.  With "Ash vs the Evil Dead" premiering on Starz this Halloween, there is no better time to dust these off.

Ju-on
Not to be mistaken for the American version "The Grudge", which in my opinion is complete bullocks. Ju-on is a film about a haunted house, and some really creepy vengeful spirits who quite frankly just want people to suffer. It's not often that a movie gives me nightmares… This film certainly did. The director has done a very good job at ingraining the frightening bits into my brain sponge. Perhaps the scariest part is the cat-boy. Children are horrifying to begin with, but this is another level.

Hocus Pocus
First off, Dani (played by Thora Birch) looks like one of my best friends growing up. Moving on though – I've heard this called "The Goonies" of Halloween films. I personally wouldn't go that far. The Goonies would never accidentally summon a coven of evil witches. Unless it was Chunk. Chunk might actually do that. It is fun and has a Disney heartwarming ending. Also the kids kick serious witch asses. Come for the magical talking cat, stay for Bette Midler's horrifying rendition of "I Put A Spell On You". Note: This is the only one of my picks suitable for most adolescents and the elderly.  Unless your grandparents are super awesome and into Bruce Campbell.

Cthulhu's Picks
Re-Animator
A timeless bit of cinema disguised as a Frankenstein story, based upon the works of the late, great H. P. Lovecraft. Stuart Gordon knows horror and he pulls it off in this classic tale of scientific pursuit and hubris, ambition and loss. Jeffrey Combs shines in his iconic performance of the title character; charismatic, arrogant, and quietly troubling, he leads down the road into the macabre and leaves us at a creepy bus stop.
The Dunwich Horror
There are a couple of versions of this out now but luckily both of them star the inimitable Dean Stockwell.  The earlier version is by far the better one because the Old Ones always are.  A young Dean Stockwell (and that alone is creepy) attempts to summon forth the Outer God Yog-Sothoth.  Frankly Yoggie is overrated, but the movie is some good witchcrafty fun.
What We Do in the Shadows
Hilarious.  One of the best uses of the mockumentary style since Spinal Tap.  Follow the sad, comic lives of a group of vampires sharing a flat in New Zealand.  Production values are great and the comedy does a great job of setting you up so that the bloodshed scenes are more impactful.